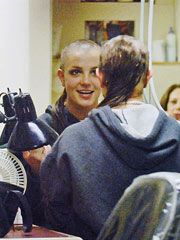 Moments after shaving her own head in Esther's Haircutting Studio in Tarzana, Calif., a teary Britney Spears blurted out, "'My mom is going to freak,'" according to salon owner Esther Tognozzi, who says she tried to talk the pop star out of her radical do. Spears, 25, stopped by the San Fernando Valley salon at around 7 p.m. Friday night after it had closed, Tognozzi tells PEOPLE. Accompanied by two bodyguards, Spears walked in with a hoodie covering her head and told Tognozzi, "'I want you to buzz my hair off.'"

Tognozzi first tried to talk Spears out of going through with the shave, then after refusing the pop star's request, Spears told her, "'Then I'll do it.'"

During Spears's visit, Tognozzi describes the pop star as having "no expression." However, she notes Spears smiled for the cameras when waiting photographers caught sight of her newly shorn look inside the salon. Spears wasn't charged for her buzz cut (usually $20 for men), but Tognozzi says, "Now I'm charging $200 for the Brit-Buzz Special!" Before Spears slipped out the back door, Tognozzi asked her if the buzz cut was a symbol of a new beginning. Spears's response: "'Something like that.'"
I was really shocked when i heard about this news in TV Patrol. TvPatrol : "Britney Spears, kinalbo ang sarili," and so, i visited my trusted
website
to know the whole story. i found out that it was true, she did shave her hair off. I belive that she can start again without cutting shaving her hair. Uhm, Is this one of her strategies to get the attention of the whole world again? I just wish her peace of mind...